Mar
24
Sat
Judith Rypma – The Amber Beads Book Launch

@ La Pinata
Mar 24 @ 1:00 pm – 3:00 pm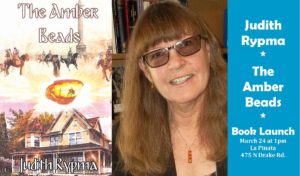 Join us for the launch of Judi's first novel at La Pinata!

Just in time for the recent centennial of the Soviet Revolution and the upcoming 100-year anniversary of the assassination of the entire Romanov family, WMU Master Faculty Specialist Judith Rypma has published a novel set in the midst of these volatile events. The Amber Beads was released by Black Opal Books a few months ago.
The novel, which is Rypma's first and follows nine poetry books, goes beyond pure history. Instead, the protagonist is a young woman in the 1990s who inherits the contents of her great grandmother's Michigan farmhouse, filled with piles of hoarded junk. After discovering and fiddling with an amber necklace, she finds herself suddenly whisked back in time to the court of the last ruling Romanovs and a Russia in the midst of World War I. As the events of 1917 kindle a flame that becomes the roar of revolution, they not only touch her life and that of her new family, but force her to cope with new ways of seeing the world, her cultural heritage, and even the complications of a unique and complicated love. Looming over these events is the most important question: how—or will—she make it back to the present?
Rypma's novel, as well as her most recent collection of poetry (Worshipping at Lenin's Mausoleum), reflect her avid research agenda on Russian history and culture, as well as nearly thirty trips to that country over the past several decades.
Apr
14
Sat
The Celery City Reading

@ Kazoo Books
Apr 14 @ 2:00 pm – 3:00 pm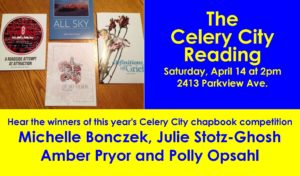 Come hear the winners of this year's Celery City chapbook competition, brought to you by Kalamazoo's Friends of Poetry. The poets are Michelle Bonczek with Another Attempt at Roadside Attraction; Julie Stotz-Ghosh with All Sky;  Amber Pryor with Definitions of Grief and Polly Opsahl with Heartstorm.

Apr
28
Sat
Pet Adoption and Health Fair

@ Kazoo Books
Apr 28 @ 11:00 am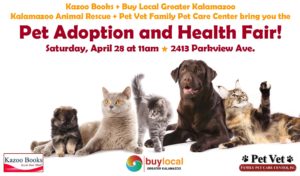 Kazoo Books is partnering with Buy Local Greater Kalamazoo, Pet Vet and Kalamazoo Animal Rescue for a big Pet Adoption & Health Fair on Saturday, April 28. We invite current and potential pet owners–and window shoppers–to stop by and greet the dogs and cats. A veterinarians from Pet Vet will be on hand to answer your pet related questions. Also, treats for everyone!
This marks the launch of a new fostering program at Kazoo Books. Radio, our beloved shop cat, isn't traveling so well these days. Beginning in May, we'll foster cats from Kalamazoo Animal Rescue here in the store.  The Annex will remain cat free, in case anyone has sensitivities. These kitties need your love & attention while they're looking for a forever home. Stay tuned for details.