Apr
26
Fri
2019 Writers Group Orientation with the Dragon's Roost Press

@ Kazoo Books
Apr 26 @ 6:00 pm – 8:30 pm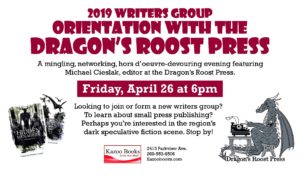 A mingling, networking, hors d'oeuvre-devouring evening featuring Michael Cieslak, editor at the Dragon's Roost Press.
Looking to join or form a new writers group? To learn about small press publishing? Or just interested in the region's speculative fiction scene? Stop in.
We're hoping to have a couple new writers groups come together at this event. Reps from  active groups will be on hand to answer questions; so will Michael, and he'll talk about Dragon's Roost, their latest anthologies, and the nuts & bolts of small press publishing.
This marks the beginning of this year's Independent Bookstore Day celebration. Mingling starts at 6pm; Michael speaks around 7.
Apr
27
Sat
Independent Bookstore Day Party!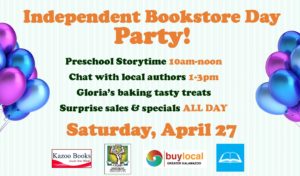 We're partnering with Buy Local Greater Kalamazoo  and Paramount Charter Academy for a great Independent Bookstore Day party.
Join local storytellers for Preschool Storytime from 10am-noon, with a special visit from PJ Masks. From 1-3pm the store will be filled with local authors to mingle & sign books. Gloria's baking tasty treats! Most importantly, we're coming up with a few surprise sales & specials for the 27th only 🙂
May
8
Wed
Norman Fischer: The World Could Be Otherwise

@ Kazoo Books
May 8 @ 7:00 pm – 8:00 pm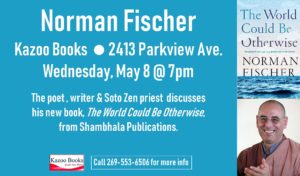 The poet, writer & Soto Zen priest discusses his new book, The World Could Be Otherwise, from Shambhala Publications. It offers an imaginative approach to spiritual practice in difficult times, through the Buddhist teaching of the six paramitas or "perfections"—qualities that lead to kindness, wisdom, and an awakened life.