Meet our amazing staff who are always ready and willing to help you find what you're looking for!!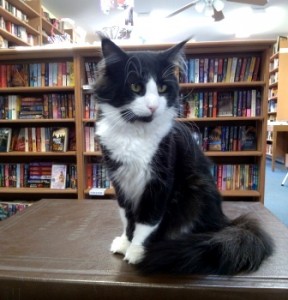 Radio is our store buddy. Once an award-winning show cat, he now spends his days wandering (and napping) here at the store.
Owner Gloria Tiller retired from the real estate business in 1988 to open Kazoo Books.  A WMU graduate, Gloria co-founded Buy Local Greater Kalamazoo and in 2010 won the Kalamazoo Network's Glass Ceiling Award. She just celebrated 30 years here at Kazoo Books and looks forward to 30 more!
Before Nick Kekic became a bookseller at Kazoo Books, he was an educator for many years & is also the author of A Fine Place for a City: Titus Bronson and the Founding of Kalamazoo, which can be found downstairs in our Michigan section.
John Wenger has worked in bookstores all of his life and is our book buyer.  He leads the Science Fiction book group and writer's group at the store.
Asia Weber is our marketing genius & online bookselling specialist. You'll also see her at the counter and throughout the store making various updates.
Todd Toussaint keeps the site updated, coordinates events & is willing to embarrass himself or others for the sake of a modestly clever Instagram post. He mostly loves chatting about books at the counter.