Meet our amazing staff who are always ready and willing to help you find what you're looking for!!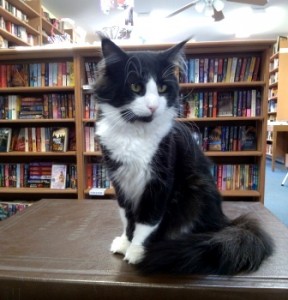 Radio is our store buddy. Once an award-winning show cat, he now spends his days at Gloria & Mark's.
Owner Gloria Tiller retired from the real estate business in 1988 to open Kazoo Books.  A WMU graduate, Gloria co-founded Buy Local Greater Kalamazoo and in 2010 won the Kalamazoo Network's Glass Ceiling Award. She just celebrated 30 years here at Kazoo Books and looks forward to 30 more!
Mark Rahn is our General Manager.
John Wenger has worked in bookstores all of his life and is our book buyer.  And if it's January, he's already booked a room for ConFusion.