Kazoo Books Distribution
We distribute several local titles. For order information or details, please send us an email.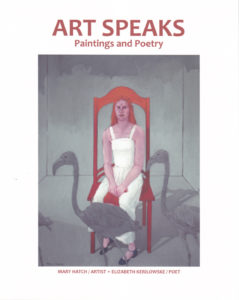 Product Information
Mary Hatch and Elizabeth Kerlikowske, 2018
Book: 10 x 8 x 0.4 inches
105 pages, paperback.
Color illustrations throughout.

$30.00Add to cart
Art Speaks is a collaboration between artist Mary Hatch and poet Elizabeth Kerlikowske as they explore the artistic relationships between visual and verse.
Mary sends Elizabeth two images, title-less; Elizabeth writes and returns. The title is shared only after the writing because that could be too influential. The titles frequently add another layer to the collaboration.
Product Information
Emerald Unicorn Press
Book: 8.5 x 5.5 x 0.2 inches
80 pages, paperback.

As Prof. Wolfgang Eichwede once put it, "Some people have princesses and fairies. Others have the Amber Room." Often referred to as the "Eighth Wonder of the World," the Amber Room was commissioned by Prussia's Frederick I in the early 18th century.  With over 100,000 pieces of various shades of amber inlaid with mosaics, the room caught the eye of collector and amber aficionado Peter the Great.  In its new Russian home, the room fascinated Empresses Elizabeth and Catherine the Great, so much so that the latter commissioned artisans to add additional elaborate mirrors, Romanov crests, gemstones, and 70 objets d'art that dazzled all who saw it in its presumably permanent home in a palace outside St. Petersburg. Read More
Product Information
Ladislav R. Hanka, 2010
Book: 8.5 x 11 x 0.2 inches
48 pages, paperback.
Color illustrations throughout.

Etchings of Native American marker trees, inspired by the Greensky Council Trees of Northern Michigan. Essays, remarks, and notes are in both English and Anishinaabe.
Product Information
Old Wood Press
Book: 8.5 x 5.5 x 0.2 inches
78 pages, paperback.
Color and grayscale illustrations throughout.
After moving to Michigan, Hunter turns to the comfort of Sandy beaches and sailing ships on the shores of Lake Michigan. Hunter's Grandpa helps ease the stress of Hunter's "big move" and reaches out to Chance, the local bully, who sinks Hunter's hope of embracing Kalamazoo as his true home. Impatient to find new friends, Hunter grows tired of Kalamazoo until a promising change brings songs of friendship, hope, and laughter. The quest leads Hunter through historic years on Parson Street  where thousands of musical instruments were born. Along the quest, Hunter casts another type of jig and catches a glimpse of Shakespeare Company where people of all ages have been peacefully reeling for over 115 years! Take the trek with Hunter and see what you discover!
Mara Mae is also the author of Haylee's Treasure.
Product Information
Ladislav R. Hanka, 2015
Book: 10 x 8 x 0.4 inches
143 pages, paperback.
Color illustrations throughout.

A foray with field glasses and sketchbook. Drawings and etchings of birds with stories about birding in exotic places.
Product Information
Winged Heart Press
Book: 9.9 x 7.9 x 0.4 inches
132 pages dark red paperback.

Parts Work
describes our inner psychological world with drawings which are moving, thought-provoking, sometimes humorous and often poignant. The book shows how we can disentangle ourselves from the problematic habitual patterns in which we get stuck, and offers ways of positively using our particular talents and style for a fuller life. Through practical examples as well as clinical illustrations, the book helps us to understand ourselves and others better.
Product Information
Winged Heart Press
Cards: 5.2 x 3 x 1 inches
62 pieces, durable, full color.

Inner Active Cards are an accessible and effective way to give an image and voice to our emotional states and mind chatter, the sub-personalities within us called Parts. This boxed set contains 62 durable color illustrations depicting the inner active life of our Parts, plus ten blank cards for creating your own images. Inner Active Cards were created in response to clientele who found Tom Holmes's book Parts Work: An Illustrated Guide to Your Inner Life, an effective and accessible way to navigate and bring healing to the
Product Information
Wild Ones, 2011
Book: 8.5 x 11 x .5 inches
235 pages, paperback.
$25.00Add to cart
The book includes much of the information and observations about plants, plant communities, and natural landscaping that Nancy gathered over the years, together with essays and articles that Nancy and Tom wrote together or separately for many local, regional, and international publications. The book includes 175 illustrations, most of them commissioned specially for this book.
Product Information
Roaring Lion Publishing, 2008
Book: 7.75 x 5 x 0.75 inches
308 pages, paperback.

Edward Armstrong is in the fortunate position of being leveraged into submission holds during weekly jujitsu lessons with his teacher, awakener, and friend, Peter Ragnar. Wisdom of the Mystic Mountain Warrior: Life Lessons from a Master of the Mixed Martial Arts, is a delightful reference book for the soul, chock-full of Mr. Ragnar's revolutionary methods and techniques for success on and off the mat. Built into this personal account of the pursuit of excellence is a high-voltage integrity that lays the foundation of the deeply life-affirming relationship between these two men and to the secrets of success revealed in the book. Read More.