Mar
30
Sat
The Great Regional Mystery Writers Panel!

@ Kazoo Books
Mar 30 @ 2:00 pm – 3:30 pm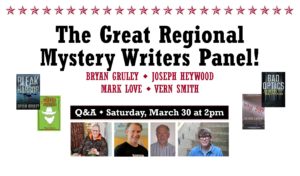 Join Bryan Gruley, Joseph Heywood, Mark Love & Vern Smith for an illuminating, informal Q&A. Expect amusing anecdotes, tall tales, some Michigan history & a few thoughts on the mechanics of storytelling. There will be treats!
– Bryan Gruley is the award-winning, critically acclaimed author of the forthcoming novel Bleak Harbor, which Gillian Flynn calls "an electric bolt of suspense." Two-time Edgar Award winner Steve Hamilton says Bleak Harbor is "unlike any other crime book I've ever read."
Starvation Lake, the first book of his Starvation Lake trilogy, was a Finalist for the Edgar Award.
– Joe Heywood is the storied author of many titles, including the Woods Cop series, featuring U.P. conservation officer Grady Service. Bad Optics is the 11th and latest installment.
– Mark Love is a former freelance reporter who lived in the Detroit Metropolitan Area for many years. He's the author of six mystery novels and three Jamie Richmond romance mysteries.
– Vern Smith is a veteran of four newspapers and three magazines. His Novelette, The Gimmick, was a finalist for Canada's highest crime-writing honor, the Arthur Ellis Award. The Green Ghetto is out now from Run Amok Books.
Apr
26
Fri
2019 Writers Group Orientation with the Dragon's Roost Press

@ Kazoo Books
Apr 26 @ 6:00 pm – 8:30 pm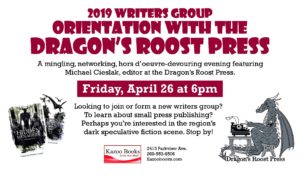 A mingling, networking, hors d'oeuvre-devouring evening featuring Michael Cieslak, editor at the Dragon's Roost Press.
Looking to join or form a new writers group? To learn about small press publishing? Or just interested in the region's speculative fiction scene? Stop in.
We're hoping to have a couple new writers groups come together at this event. Reps from  active groups will be on hand to answer questions; so will Michael, and he'll talk about Dragon's Roost, their latest anthologies, and the nuts & bolts of small press publishing.
This marks the beginning of this year's Independent Bookstore Day celebration. Mingling starts at 6pm; Michael speaks around 7.