Verse Novel / Poetry / Fantasy / Romance
Pub. 1998 by Vintage

Reviewed by Kaili, 4/23/15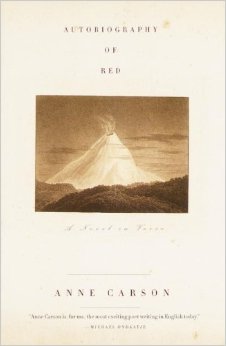 Carson's Autobiography of Red: A Novel in Verse, first published in 1998, scooped me up during a poetry class at WMU several years ago. (If you are unfamiliar with the genre: a verse novel combines narrative, poetry, and drama. Similar to a lyrical essay, but fiction rather than non-fiction).
Works so heavy on mythology rarely pull me in, but I was (am!) absolutely taken with Autobiography of Red. It is the first of two verse novels following the character Geryon, a boy with red skin and wings, roughly based on the Greek myth of Geryon and Herakles (Hercules). I approached Red with little knowledge of the mythology, but Carson provides context in a short introduction.

Autobiography of Red, as I see it, is a bildungsroman and a romance for the underrepresented.  We travel with Geryon through layers of boyhood, abuse, shame, an obsessive love with the adventure-seeking Herakles, heartbreak, and photographs–covering, with emotional immediacy, an expanse of experiences rarely given reverent light of day. Geryon's relationship with another man, for example, is written to stand for all human desire–homosexuality is presented within such an individual context (as opposed to a social context) that it becomes a neutral experience–an incredibly underrepresented reality. Red has marvelous rhythm, both in regard to the verse and to the structure and sequence of events. The silence between words is just as provocative as the words themselves, and the intellectual questions posed within Geryon's story left me thinking.
If you appreciate a puzzle and consider ambiguity a force, rather than a frustration, I highly recommend Autobiography of Red. As for the "verse" part: critic Sam Anderson says, "'Red' has become known as one of the crossover classics of contemporary poetry: poetry that can seduce even people who don't like poetry." Carson's familiar themes, albeit within uncommon context, won't escape you.

Sequel: Red Doc> (2013).