Reviewed by John, 7/29/15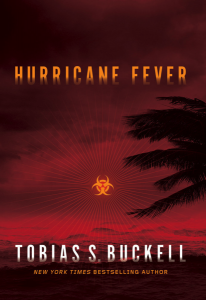 Prudence "Roo" Jones, a former Caribbean Intelligence operative, just wants to relax and ride out the hurricanes on his catamaran in the islands, but after receiving a mysterious message and package from a dead colleague, he finds himself in the middle of a plot to infect the globe with a biotech virus, all with his orphaned teenage nephew along for the ride.
Roo appeared in Buckell's previous book, Arctic Rising, but we now see him in his element, teamed up with a woman who says she's his dead partner's sister. He's pushed to his limits to discover the secrets of a terrifying biological weapon that must be stopped while racing from the hurricanes that are the new norm in the near-future Caribbean.
Tobias Buckell grew up living on boats in Grenada and the Virgin Islands, so the setting, while exotic for many readers, is like going home to the author and the scenes set onboard boats and on the water are thrilling and authentic. Buckell remembers watching James Bond movies while growing up, some of which took place in the islands, and wondering where the local intelligence agents were; Hurricane Fever is Buckell's answer to that question.