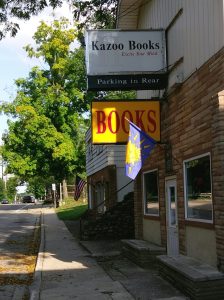 We're so excited! After our holiday break — KB is closed Saturday thru Monday for Labor Day — we will re-open as a single, integrated book store at 2413 Parkview Ave. Our Oakwood location boasts two buildings worth of books (40,000 titles and growing!), a large parking area, a full handicap ramp, and meeting spaces for book clubs & writing groups.
Not only will increased efficiency allow us to spend more time assisting customers, but visitors will see improvements across the board: a broader selection of titles, one-on-one personalized service and our entire staff on hand and available for consultation.
Kazoo Books would like to thank all of our customers for making this move possible & joining us for the next chapter.